you can't really say orlando never has anything to do. i just looked it up for you...

check back for updates, i'm sure i missed something


August:
8/3
GARAGE DAYS with Time To Die, Republicorpse, No Qualms
@ the Social 9:00PM, $4.00, 18 and up.
:::totally epic yallz missed out
8/4
SOLILLAQUISTS OF SOUND
Instore Performance and CD Release Party @ Park Ave Cd's
...park ave instores are always sound really good
8/4
SOLILLAQUISTS OF SOUND
@ Club Firestone
8/4
DEEP BLUE installation by Doug Rhodehamel
@ Bold Hype 8-12
8/5
DR. SKETCHY
@ Tatame. 8pm. $5 Bux Get your sketch on.
...someone plz come with me
8/7
THE PAUSES (RECORDING FUNDRAISER), Venice Is Sinking, Candy Bars
@ Wills Pub $6 9pm
8/7
SAVE THE ARTS, Save the World ART SUPPLY DRIVE
$10 donation/cover charge at door or $5 with an art supply donation. Friday 8/7 from 7-11pm. 520 N. Orlando Ave, LOFT 1 Located in The Lofts of Winter Park Village above Cheesecake Factory.
...went to the last loft art show and was completely blown away. not only was the art interesting but the space accommodating the show was epic. definitely something you've never seen in orlando before. be sure to make it out.
8/8
RUM RUNNERS RALLY
. Moped Ride in Bonita Springs zoom zoom. Only FL finest moped and moped peepz
...wish i could make it to ride with all the florida cats.
8/8
2 PIECE FOR PEACE Magic & the Johnsons, 1991, Greenses, Plank Stain
*Bring a book or zine or a cassette for trades! Cassette/book/zine trade!
...i might have some things for trade, plz bring your things!!!!!!!!!!!!!
8/9
DAVILA 666, JACUZZI BOYS
+ guest @ Wills Pub $6 9pm
...jaccuzi boys are always a good time
8/11
ED WOOD by Tim Burton
at the Enzian 9:30 $5

...yay, movies!


8/13 Pink Panther Strikes Again Directed by Blake Edwards at Central Park off Park Ave 8:30 FREEEE
8/13
RAHZEL and Craze
@ Club Firestone 7pm $17 pre/$20 day
...havent you heard the candy bar commercial? arent you at least interested in how he makes those sounds!?!?!
8/15
KHANN, GREAT DECEIVERS, Lighthouse Music , Grey Market
@ WIlls Pub $5 9pm
8/17 LOW DOUGH Monday's Presents:
STREET FIGHTER TOURNAMENT
(7-11 PM) @ Wills Pub No Cover $1 PBR'S - $2 DOMESTICS


...i'm definitely training for this. feel my wrath yall


8/17 NO QUALMS + guest Birthday Show! at Hoopz

...uh, birthday jamz, myselfs, ryan "hollywood" hutchisons and bradley!



8/20 The Wiz Directed by Sidney Lumet FREEE at Central Park off Park Ave 8:30
...are you serious!?!?!? theres no way. i wont believe it till i see it. who ever decided to organize this movie to show, i want to give you a handshake
8/21
O'Horton Directed by Bent Hamer at the Enzian
3:45
8/21
BICYCLE FILM FESTIVAL
stop in Orlando! BFF weekend kick off party @ Back Booth. Gold sprints on stage, drink specials and giveaways. There will be a pre-Gold Sprints hangout at Ace Metric (1313 Sligh Blvd) at 4pm and then a group ride over to Backbooth leaving Ace at 6:30pm.
...you ragin?
8/22
BFF Alley Cat Race and Film Screenings / Art Show.
Venue for the screenings / art show is the Theater @ Avalon Island. BFF closing party @ BBQ / I-Spy with DJ's and tons of drink specials.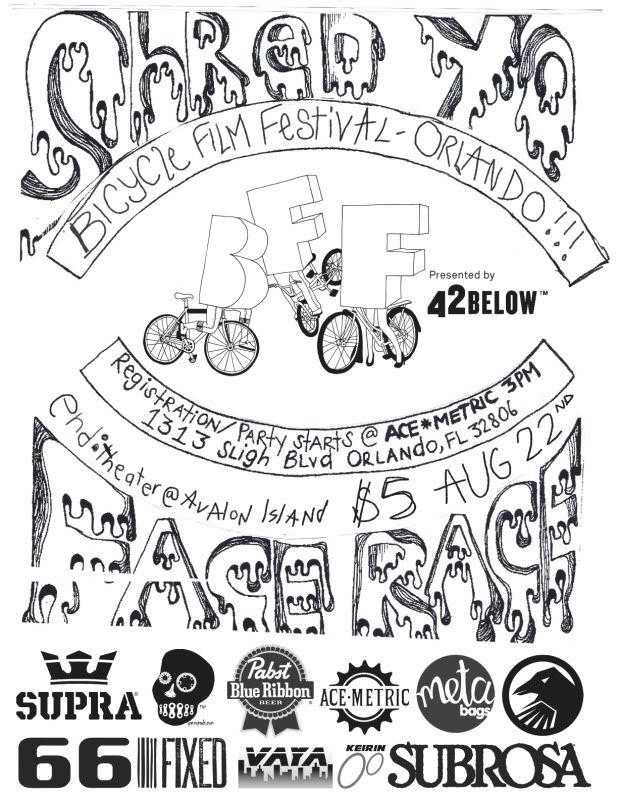 8/23
Dirty South BBQ @ the Milk District
, 12pm-8pm. Bands, DJ's, games, food / beer and overall shenanigans all courtesy of your friends at the Milk District...
...milk district always provides the jam. if you've missed out on past events, now's your time.
8/23
The Fiery Furnaces & White Rabbits
@ the Social Doors at 9:00PM, $13.00 advance $15.00 day of show, 18 and up.
8/23 (3:30) 8/25 (9:30)
Easy Rider Directed by Dennis Hopper at the Enzian
8/24
GARAGE DAYS with Paper Street Soap Co, Libyan Hit Squad, Overdale
@ the Social Doors at 9:00PM, $4.00, 18 and up.
8/27
Machine Gun Kristin Marathon Show
@ Wills Pub: Garbo's Daughter, Hot Hands, Courtneys, Saving Twilight PLUS two bands Kristin's not in: Bunnygrunt, Sex Robots. 8pm doors.
8/28
Humpday Directed by Lynn Shelton at the Enzian
8/28
Critical Mass Tire Change